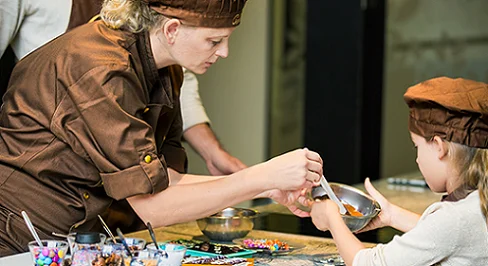 Chocolate workshops
Have you ever wanted to make your very own chocolate creation? Now you can! At our chocolatier workshops, our chocolatiers introduce you to the art of tempering chocolate and ganache making. You will learn how to create your own chocolate works of art. At the end of the workshop, you will be able to take your very special creations home with you, along with some truly unforgettable memories.
For any question, contact us : +41 26 921 59 60.
Celebrating a birthday or need a workshop idea for your next corporate event? Then our chocolatier workshops are the ideal choice. You can even gift a workshop to your Valentine. Attend the workshop together to create your very own Valentine's Day hearts or Coeur moelleux. It will undoubtedly be the sweetest memory you share.
No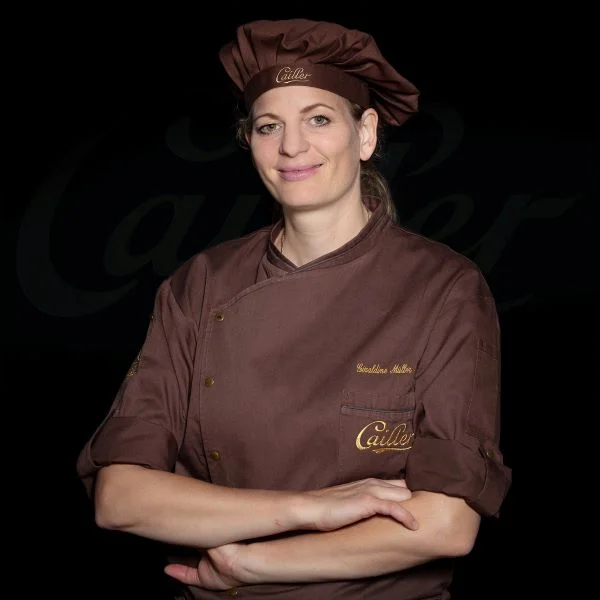 +
GÉRALDINE MARAS
Chef chocolatier
Géraldine Müller Maras has been chef chocolatier at Maison Cailler since 2014. Previously, her chocolate-making career had taken her to all sorts of exotic places, for example from the Caribbean to Antarctica on board the MS Hanseatic cruise ship. She also worked in Sydney and Bangkok, training young chocolatiers. In 2015, Géraldine won the title of Confectioner of the Year at the Swiss Chocolate Masters. That same year, in the international confectioners' competition at the World Chocolate Masters, she finished in the top ten, as the only female chocolatier. Géraldine's all-time favourite since her very first visit to the bakery: the chocolate Gugelhopf cake.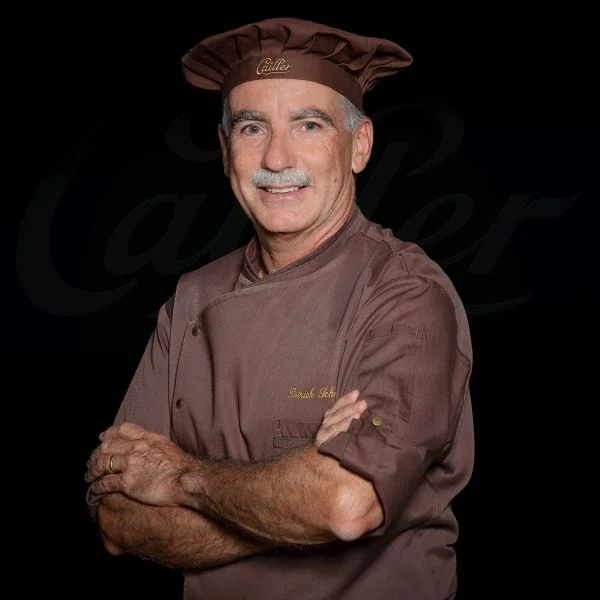 +
PATRICK SCHNEIDER
Chef chocolatier
Confectioner Patrick Schneider's love of chocolate has taken him all over the world. He has worked as a patissier in a 5-star hotel in Bermuda and as head pastelero in Mexico, and complemented his chocolate-making experience with American chocolate expertise in the US. Back in his homeland, Patrick ran the largest patisserie in La-Chaux-de-Fonds for 20 years. His interest in different cultures brought him to Maison Cailler at the beginning of 2015, where he introduces students from all over the world to the chocolatier's sweet trade at the Atelier du Chocolat. Patrick's favourite recipe: a sorbet with exquisite cocoa and fresh fruits
+
ANTONIO DI CAPUA
Chef chocolatier
Born of a Chocolatier-Roaster father, Antonio became passionate about the world of chocolate at only 10 years old. Just a few years later he was voted best apprentice in Neuchâtel. After acquiring experience throughout Switzerland and winning various awards, he joined Maison Cailler in April 2017. Since then, Antonio has taught the art of ganache making and tempering at Maison Cailler's Atelier du Chocolat. Inspired by traditional Swiss chocolate making, Antonio shares his discoveries and know-how with passion. His favourite chocolates are grands crus with a high percentage of cocoa.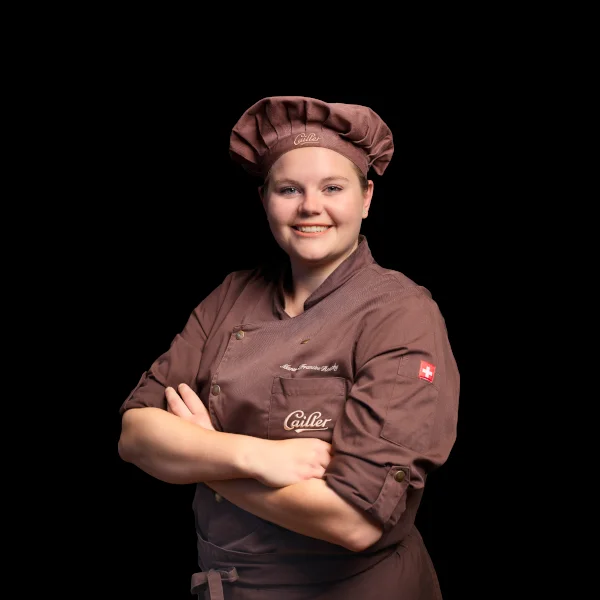 +
MARIE-FRANCINE ROSCHY
Chef chocolatier
Originally from the old town of Fribourg, our young multilingual chocolatier began her career abroad after obtaining her Federal Diploma as a pastry chef-confectioner, in order to improve her English. After several successful years of professional experience across Switzerland, Marie-Francine Roschy obtained the Advanced Federal Diploma of Higher Education in Hospitality Management at the Zurich hotel school. With all her precious work experience in different sectors of the luxury Swiss hospitality industry and gastronomy, her passion for the culinary, she decided to return to her first love, chocolate, and to bring all her know-how to the Maison Cailler.Her favorite: Morello cherries coated with chocolate.