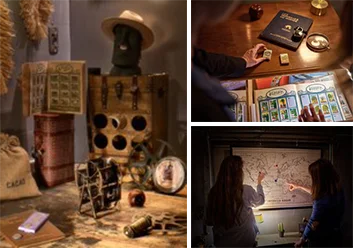 Maison Cailler's Escape Game is back with a brand new story!
In an authentic vintage wagon, you will be immersed in the universe of our famous Cailler chocolate. A delicious reward is awaiting the bravest ones.
An unforgettable experience in a unique setting, to share with family and friends!
Maximum 5 people can participate to the Escape Game.
Do you know the characters Fop Cailler and Fip Kohler, emblematic characters of the Fip Fop club founded in 1936, the club that revolutionized the world of cinema and chocolate marketing in Switzerland?
The new Maison Cailler Escape game will transport you back in time. Take up the challenge with numerous challenges to help the cinema projectionist's assistant and save the next travelling cinema show of the Fip Fop club, an event awaited by hundreds of children in Switzerland.
Allow yourself to be tempted by an incredible adventure with friends, family or colleagues in an authentic period train carriage. Its rich historical heritage will transport you into the world of our famous Cailler chocolate: a unique and fun experience.
Recommendations: ideally, from 3 people and children from 10-12 years old, accompanied by adults. Medium-high level of difficulty and strategy.
Participants get a special price for the visit of Maison Cailler. To be booked online at the same time as the escape game.
No