Football and chocolate merge in an exciting partnership - Cailler becomes official chocolate licensing partner of the Swiss Football Association
18/01/2022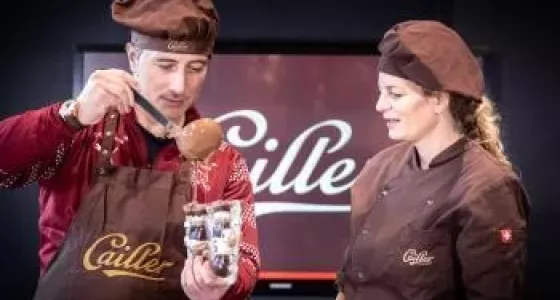 The Swiss Football Association and Cailler have entered into a sponsorship partnership: as of 1 January 2022, Cailler has become the official chocolate of the Swiss women's and men's national football teams.
To launch this unique partnership, Murat Yakin, coach of the Swiss men's national team, and Dominique Blanc, president of the Swiss Football Association, were guests at the Maison Cailler in Broc, in the canton of Fribourg. Helped by award-winning chocolatier Géraldine Maras, the national coach was able to express his talent by working on various creations.
"Cailler and the national teams both represent the values, pride and traditions of Switzerland: we share a passion and love for our country. A partnership between the SFA and Cailler is simply a natural and perfect fit," says Bruno Emmenegger, Business Executive Officer Confectionery Nestlé Switzerland. We are looking forward to a year full of excitement and suspense. Go Switzerland!
Dominique Blanc, President of the Swiss Football Association, also describes the partnership as one that is full of values and meaning: "True to the motto 'Share the Passion', we both seek to bring joy to all Swiss people with creativity, professionalism and a lot of emotion.
As a licensed partner of the Swiss Football Association, Cailler will have various specialities in the colours of the Swiss national team during the World Cup and Euro 2022. In addition to numerous other activities, Cailler will be present at the national team's home matches to welcome chocolate and football fans.
Images: Flickr
Contacts:
Nestlé Switzerland Press Office
E-mail : presse@ch.nestle.com
Download PDF